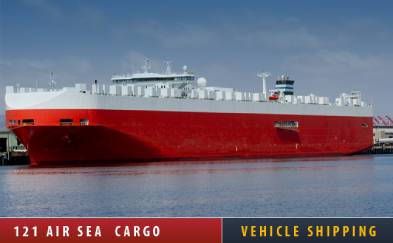 One of our specialities is the handling of automobile, auto parts and car accessories. We are one of UK's top freight forwarders for handling of vehicle movement to and from UK.
We specialize in containerized and RORO movement of any size vehicle and caravans. We have extensive experience of handling vehicles in our warehouse, loading, blocking and bracing vehicles with high standard professional packing and padding. We make sure that Vehicle is safe in the container to face long sea journeys. We also provide e full guidance on paperwork required for importing and exporting vehicles to and from UK. 
RORO Auto Shipping
Containerised Vehicle Shipping
 RORO Auto Shipping:
121 Air Sea Cargo Ltd. is a leading provider of RoRo logistics services to individuals and companies who wish to transport single or multiple vehicles.
Vehicles are driven inside the ship and secured onto the vessels car deck. If the vehicle is drivable or can be towed, we can ship it using our RoRo logistics services. This is the simplest, most effective, economical and fast way of shipping automobiles worldwide.
RoRo is short for "roll on, roll off". This simply refers to the method by which vehicles are loaded onto large ocean shipping vessels for transport overseas.